HANDOVER – 30 JUNE 2022
A really enjoyable occasion at Mapperley Golf Club for our handover meeting. It was great to see so many wives and friends there plus our special guest, Gedling MP, Tom Randall.
The picture shows outgoing Joint President Susan handing over the Club's Charter to incoming President Paul.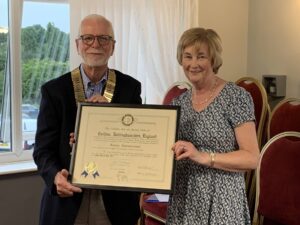 Garden Party to celebrate The Queen's Platinum Jubilee
Rotarian Ken Leach and his wife Gill kindly allowed us to use his garden to hold a garden party & picnic on the 5th June. Despite the threat of rain and unseasonal cold weather, Carlton Rotarians, together with friends of Rotary and many from the Gedling All Hallows Church congregation, enjoyed a very sociable afternoon.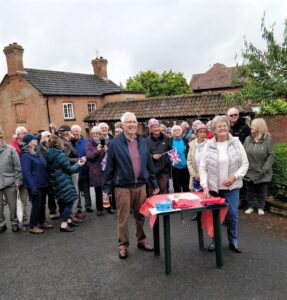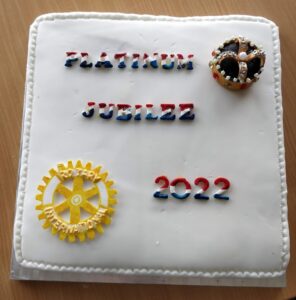 Many thanks to Ken & Gill for a lovely afternoon.
Night out at Ramsdale Adventure golf on 29th April
A really good fun evening despite the cold. Then on to the Bridge Inn at Oxton for some well deserved food and beverage!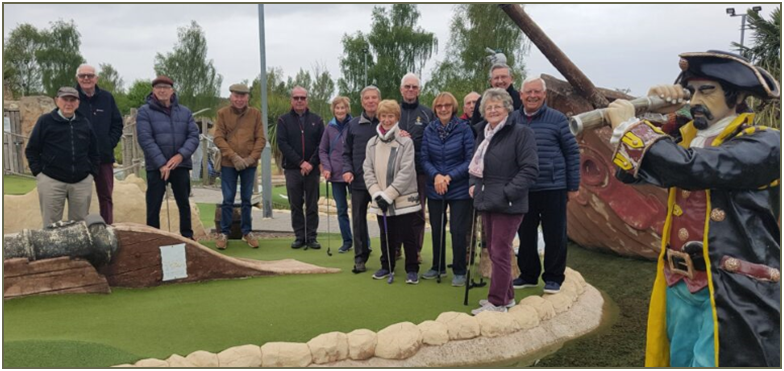 queen's platinum jubilee picnic – sunday 5th june 2022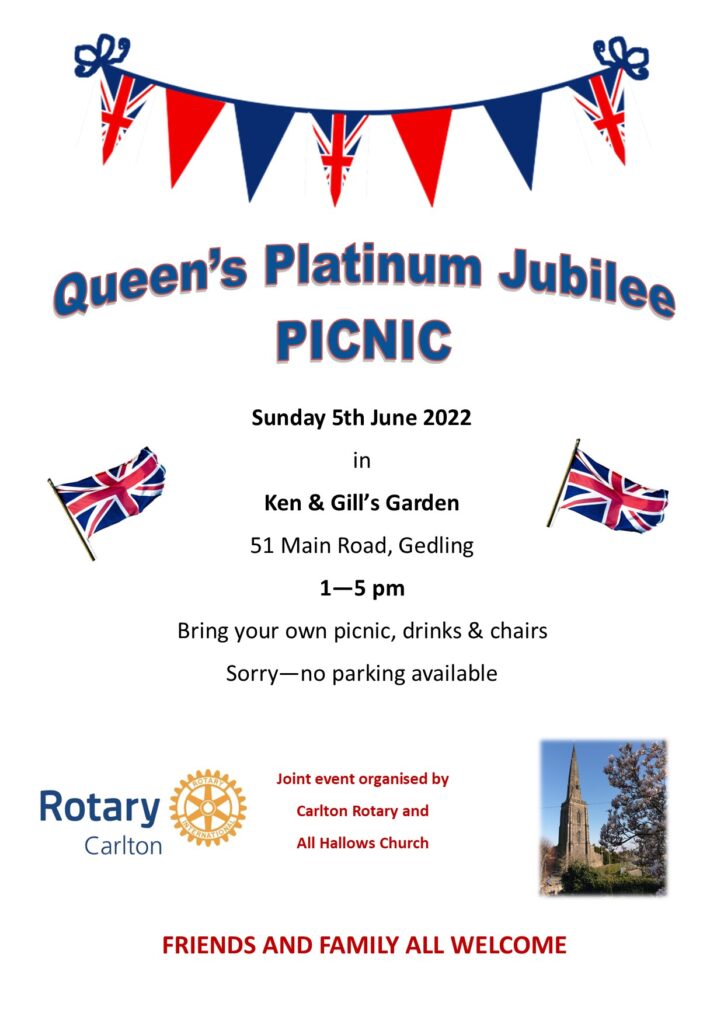 45th charter / birthday celebration – book now – all welcome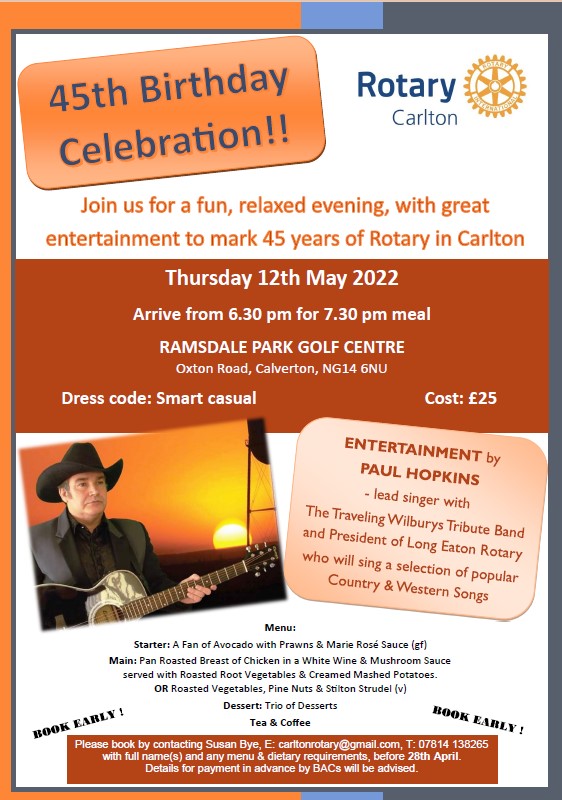 LITTER PICK IN NETHERFIELD on 23 april  TO MARK WORLD EARTH DAY – 
What a success!  1,776 items collected and logged onto Kids Against Plastic website.  20 volunteers – including an enthusiastic 3 year old,   our MP Tom Randall and 3 councillors.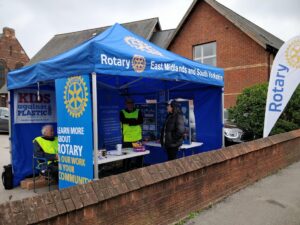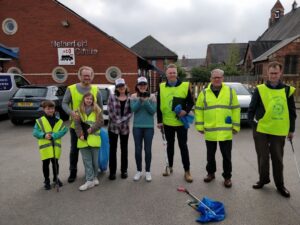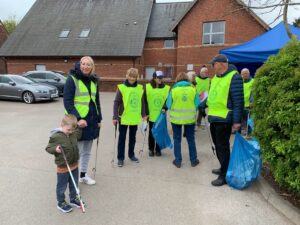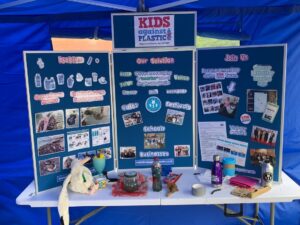 VISIT TO NATIONAL HOLOCAUST CENTRE – 12 APRIL 2022

Instead of the weekly meeting, the club organised a visit to the National Holocaust Centre at Laxton. Walking around the museum exhibits is an emotionally difficult experience but educational and extremely interesting too. The Centre serves not only as a memorial to the millions murdered during the second world war, but also to remind all of us – including younger visitors and generations to come – of the dangers of totalitarianism.  
FUNDRAISING QUIZ – 28TH MARCH 2022
Great quiz at the Burton Joyce Village Hall. Quizmaster, Neil Kenrick, did a great job in compiling a very varied quiz with something for everyone. The winners went away with a case of Prosecco plus beer for the runners up. Terrific fish and chips were supplied and delivered from the Burton Joyce Fish & Chip Bar.
£400 was raised for Maggie's charity and a further £240 was raised through the Carlton Inner Wheel's raffle for the Lincs and Notts Air Ambulance.
The picture shows Rotary joint president David Styles with Neil.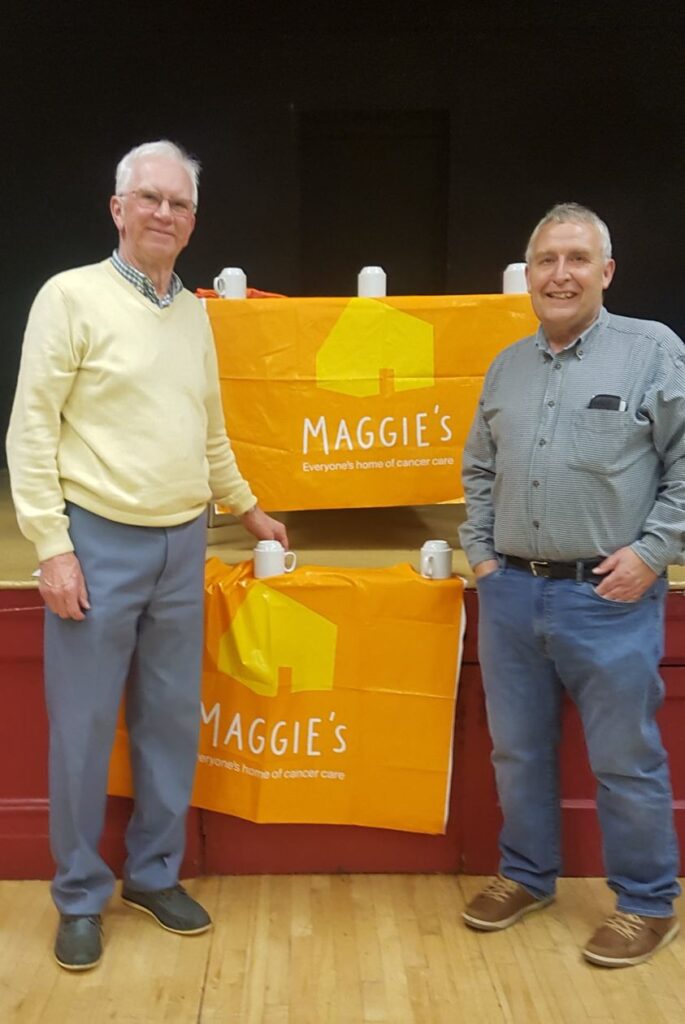 VISIT TO THE MUSEUM OF TIMEKEEPING – 10TH MARCH 2022
A really interesting visit to the Museum of Timekeeping at Upton near Southwell, followed by an excellent meal over the road at the Cross Keys. If you haven't been to the museum, it is well worth a visit and in particular, if you can arrange to be with a group you can then apply beforehand for a talk.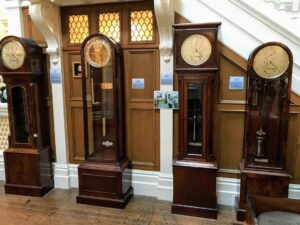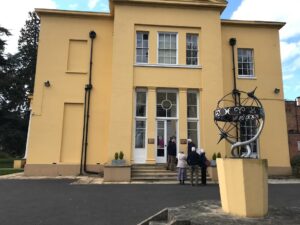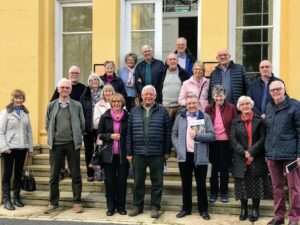 MEETING THURSDAY 10th February 2022
Tonight's meeting was a visit to a local hostelry – the Robin Hood & Little John pub in Arnold, followed by a meal at the Himalayan Restaurant opposite. A very good evening it was too.
MEETING THURSDAY 3rd February 2022
Thursday's business meeting gave us an opportunity to discuss the various charities and good causes we were planning to support in the coming months plus look ahead to the numerous social events we have planned.
One member was having a clear out at home and brought in all 156 pennants the club had received over the years. We couldn't really justify storing them so they will all be photographed for a digital record. Rotary is an international organisation and the photo below shows just a few of the clubs that our members have visited over the years.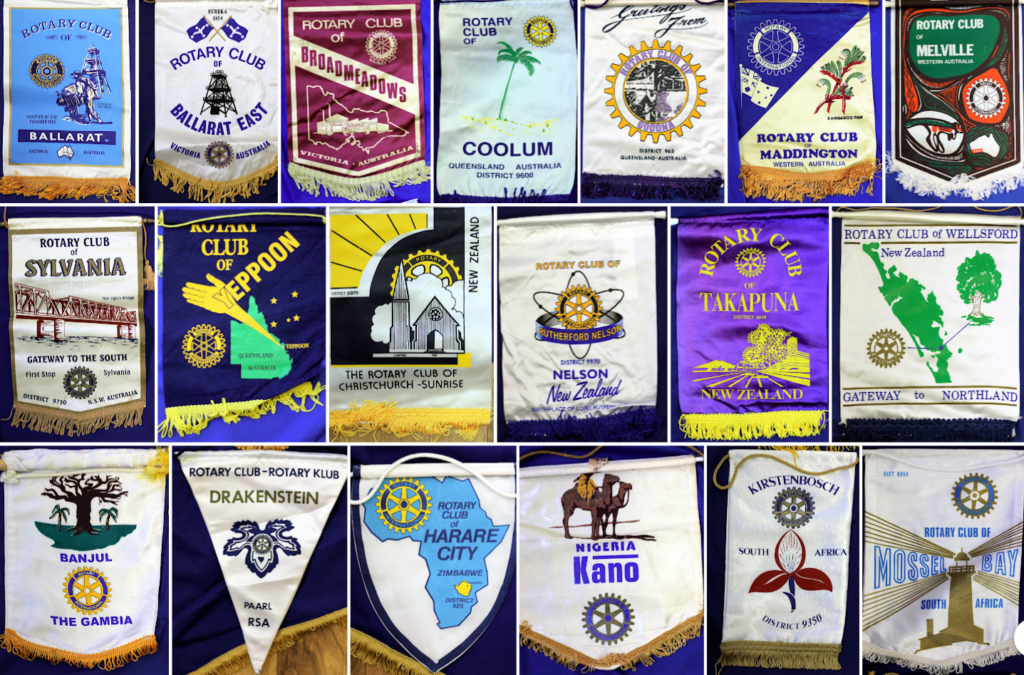 christmas card sales
In 2021 packs of Christmas Cards featuring winter scenes in Gedling Country Park were designed and sold as a fundraiser.  Profits were split between the Friends of Gedling Country Park and Rotary funds.
Carlton Rotary donates to Nottingham YMCA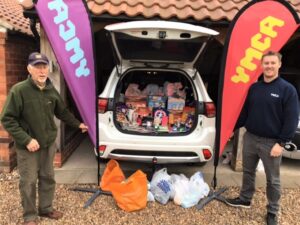 1st. December 2021. David Falkner on the left, handing over Carlton Rotary's donation to Andy from Nottingham YMCA. The YMCA had contacted Carlton Rotary, asking for help to provide items that they were in need of for the homeless and refugees in their care. Of course, Carlton Rotary were happy to help.
The first day of Carlton Rotary's Christmas Appeal
24th November – Carlton Rotary Santa at the Carlton Hill Christmas lights switch on. What a great event. Lots families with children keen to see the Christmas Tree all lit up, listen to the choir and meet Santa.
Remembrance Sunday 13th November 2021
Carlton Rotary Club was proud to lay a wreath at the Gedling Memorial after the All Hallows Remembrance Sunday service.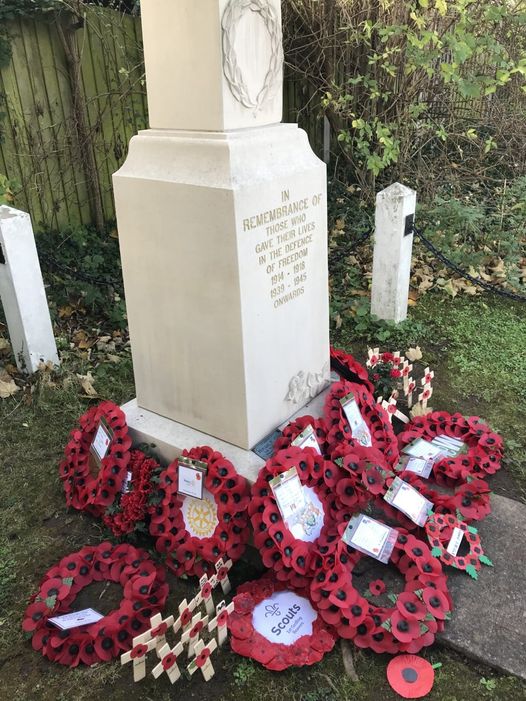 British Legion Poppy Appeal
Carlton Rotary and Carlton Inner Wheel Club helping out with the British Legion Poppy Appeal today at Sainsburys. (Masks removed just for the photo!)
An honour to be able to help and immensely gratified at the generosity of the Sainsburys customers.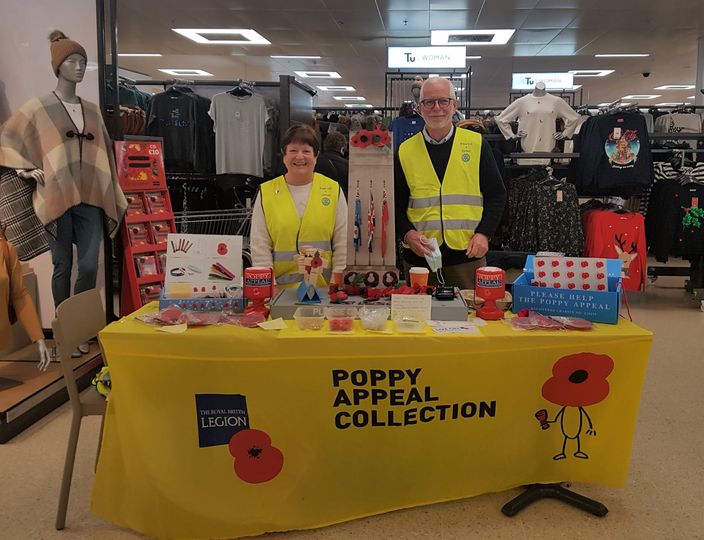 sponsored walk in aid of end polio now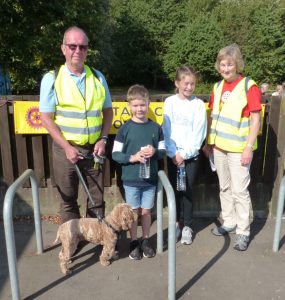 Joint President Susan, District Governor Martyn plus 2 grandchildren and dog completed the sponsored walk organised by Sutton in Ashfield Rotary on Sunday 26 September 2021.  We walked 5 miles along the Teversal Trail to Pleasley and back.  Why End Polio Now?  Rotarians have proudly helped to reduce polio cases by 99.9% since 1988.  Bill Gates is "on the case" too and doubles the amount Rotary raises.  We're nearly there!  But vaccines need to continue for some time to come to ensure the world is free of this awful disease. 
annual Bowls evening on 2nd September 2021.
Bowls competition followed by an excellent meal at Amores Italian Restaurant in Gedling.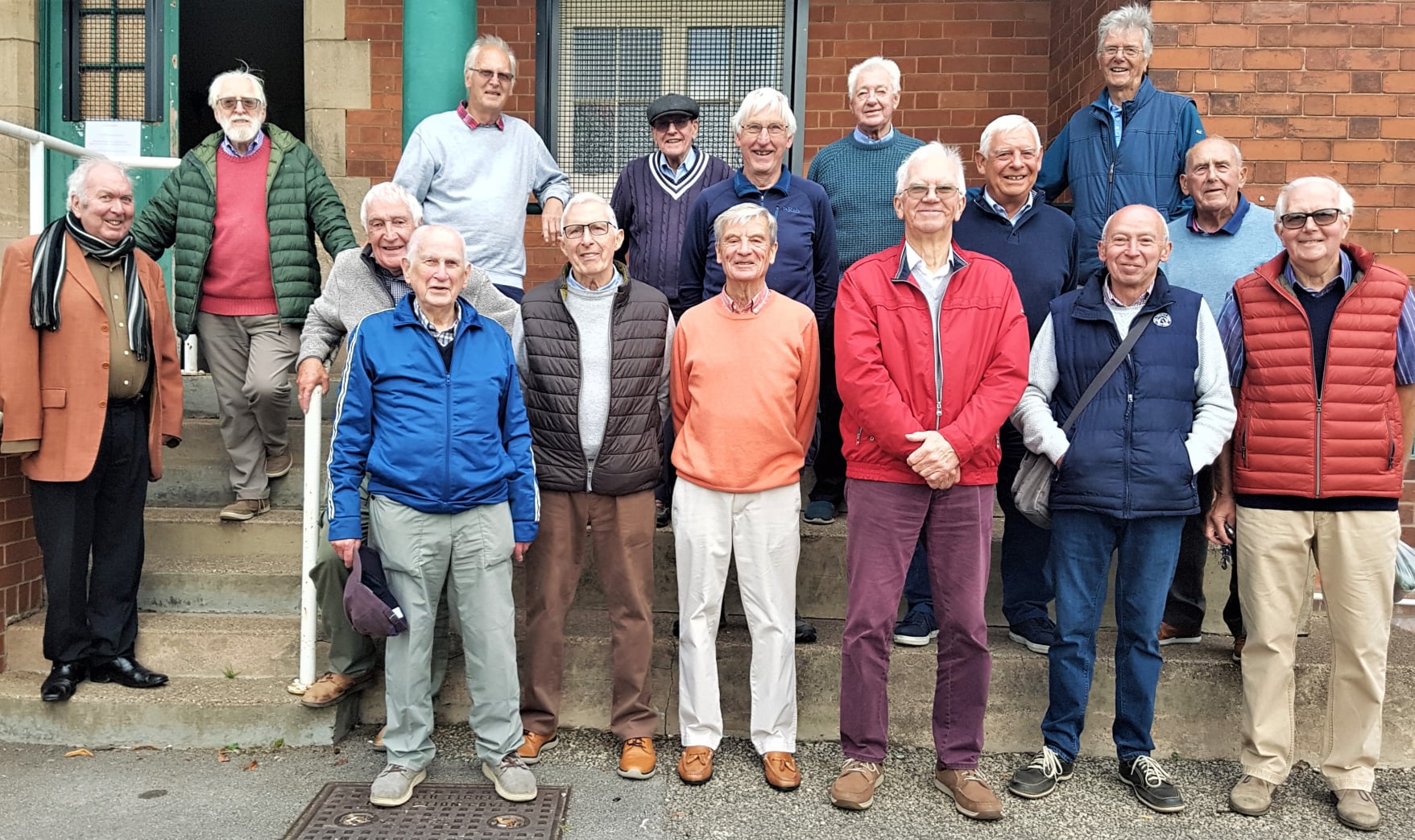 fIRST live SOCIAL EVENT OF THE NEW ROTARY YEAR !
The weather was fine for 11 of us on 19th August 2021 when Mike led us on a great 6 km walk around Oxton.  We were then joined for a super meal at Ye Olde Bridge Inn afterwards when 24 more Rotarians and some Friends of Rotary had a good "catch up".

Carlton Rotary's 44th Birthday Charter Night
The annual Charter Night is normally the social highlight of the club's year. To help celebrate the club's birthday along with its achievements for the year, Rotarians from all over the District are invited, together with other guests and local dignitaries. In recent years it has been held at the Mercure Nottingham Sherwood Hotel, but of course this year we were faced with the problem of wanting to celebrate the club but being restricted to remote Zoom meetings. Undeterred, the charter went ahead but without all the normal speeches and toasts but still with the entertainment. A magic show was performed by Steve Price over Zoom and fellow Rotarians from around the district, along with friends from our sister club in Goshen, New York, joined us for a great evening of magic. Unbelievable illusions! The tricks were right up close and personal, yet still you couldn't see how it was done.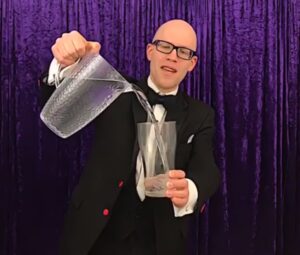 Club Meeting Thursday 29th APril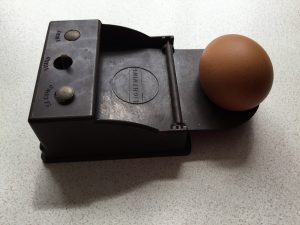 Tonight's Zoom meeting was billed as a "bit of fun". Fun – yes, fascinating – most definately. A number of members presented unusual objects from their homes with the associated background stories.
Perhaps the most bizzare was a section of a carbon fibre, fan blade, taken from a 1970 Rolls Royce RB211 jet engine. The story behind this piece of British engineeering was the story of Rolls Royce aerospace's decline into receivership and subsequent nationalisation by the British government. Why a large piece was still in one of Carlton Rotarian's garages was all part of the story.
Other items included a Christmas tree decoration brought all the way back from a holiday in Antiga! Yes, strange but true! A device for cutting a taper into candles, in order that they may be inserted more easily into your candelabra – first find your candelabra. A Clarice Cliff pie funnel (often shaped like a black bird – the 4 and 20 kind). An antique bakelite device for grading eggs – actually used many years ago in the Gedling Dairy. And finally, a stone age (probably from the Paleolithic Period) axe head found in the deserts of Yemen.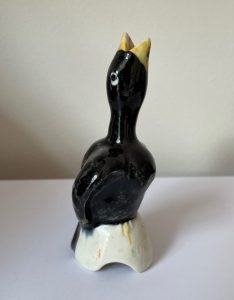 Rotary District 1220 Annual Assembly.
Each year, members of Carlton Rotary attend the Rotary District Assembly. This is normally held at a local hotel or conference venue. This year, Covid restrictions prevented this, so for the first time, it was held via Zoom. Over three weeks this April, dozens of Rotarians came together to hear presentations and discuss a wide range of topics. The full programme is shown below.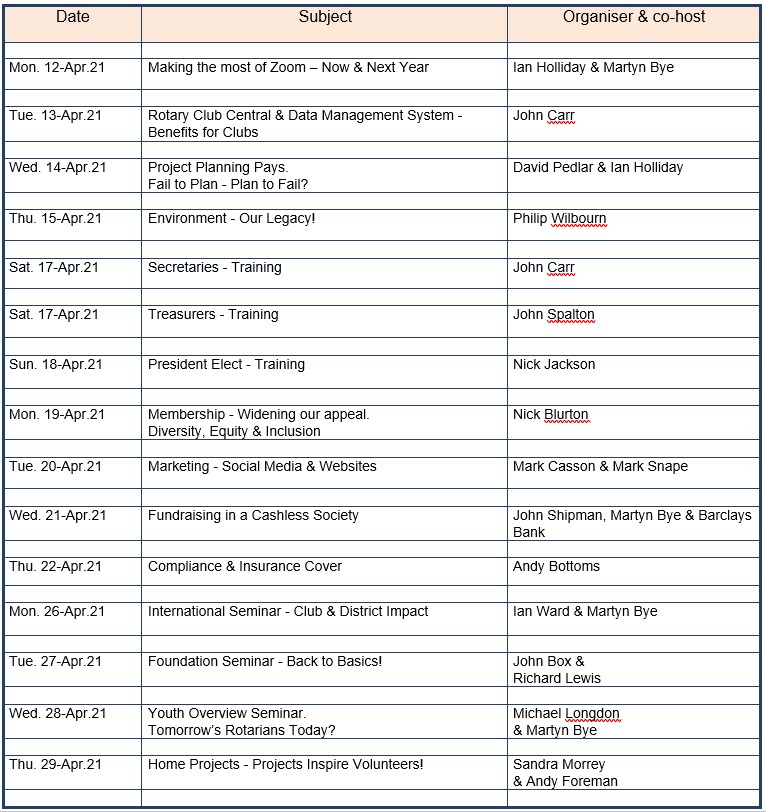 Club Meeting Thursday 22nd APril
On Thursday, Anthony Poulton-Smith from Tamworth in Staffordshire spoke to the club about "Stupid Moments in History". He posed some interesting questions such as, When God made earth in a perfect form, why did he create man? and Was the Tower of Babel a big mistake? His talk meandered through various major incidents of history, including the Charge of the Light Brigade; failure to give proper orders, Napoleon's retreat from Moscow; he returned on the same route as the advance but there were no resources on the ground as they had consumed them earlier, could the sinking of the Titanic have been avoided if the man on watch had a pair of binoculars? 
Anthony also talked about the errors of mistranslation in modern times which may had led to the dropping of the first atomic bombs, start of the Vietnam war and others.
A very enjoyable talk from a freelance journalist and author.
All Hallows C. of E. Primary School Eco Greenhouse
The Rotary Business Partnership was designed to enable the business community to satisfy their corporate social responsibility objectives through projects that benefitted the local community.
One such scheme was the construction of eco greenhouses for schools. With funding from the Gedling Borough Council, the Rotary Club of Carlton organised and erected a greenhouse for All Hallows C. of E. School in Gedling. The pupils, staff and parents were all involved in the project, with the plastic bottles used for the greenhouse being sourced by the children from their own homes. Under the supervision of the teachers, they then prepared the bottles for Rotarians to use in the building of the greenhouse.
The greenhouse was then erected by Carlton Rotarians over 2 days in April (2021).
The benefits for the school and children are numerous and varied. Initially it provided the opportunity for them to become actively involved with the technology and science of structures whilst at the same time, learning about the importance of recycling. There will be ongoing learning opportunities too, with hands on lessons in gardening, fruit and vegetable growing plus the whole topic of food production.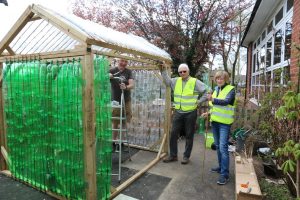 April 2021 Meetings
In line with the club's normal schedule of not having a meeting in the same week as any bank holiday, there was no meeting this week. The meeting would have been held on Thursday the 8th. April but as the Easter Monday holiday fell on the 5th. there was no meeting.
There will be a departure from the normal meetings schedule on the 15th also, as this coincides with the Rotary District 1220 (the area covering Nottinghamshire plus parts of  Derbyshire and South Yorkshire) Assembly. This event is normally held at a local hotel with Rotarians attending various talks. Because of the Covid pandemic, in 2021 this is being conducted on-line over a number of days. On the 15th. the club will be attending a meeting focusing on the enviroment.
donation to werhere – march 2021
We were successful in applying for a matching District Grant in February to enable WeRHere to start a new programme of therapeutic work with families on-line.  Keep up the good work, WeRHere!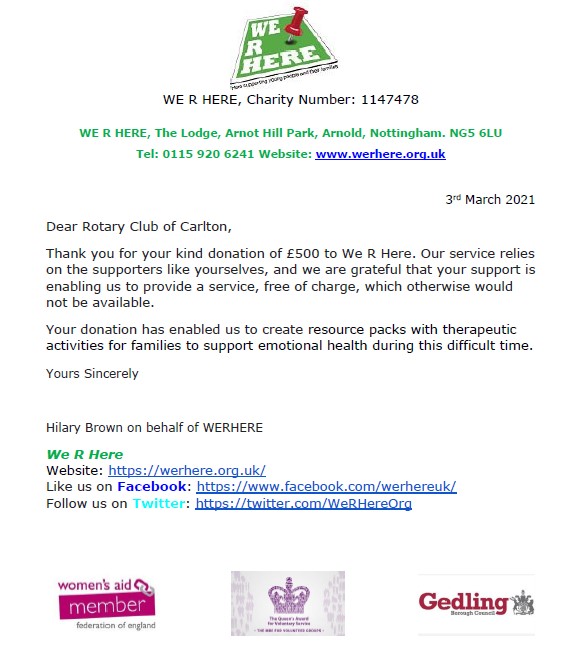 CLUB MEETING 4 MARCH 2021
Zoom has opened new opportunities!  Between 1992 and 2010 Carlton Rotary and our twinned club, Goshen (NY), enjoyed several exchanges back and forth across the Atlantic bridge.  Some members have kept in touch since then and the idea of a joint Zoom meeting was mooted.  It was an opportunity for old friends to reminisce and for us to learn a bit about what each club has been doing over the last few years, both before and during Covid restrictions.  One of Goshen's community and fundraising activities was their "Flags for Heroes" project.  We all enjoyed the joint meeting and will no doubt keep up the links and repeat in the future.  We have Covid to thank for giving us new communication possibilities.  Great evening all round!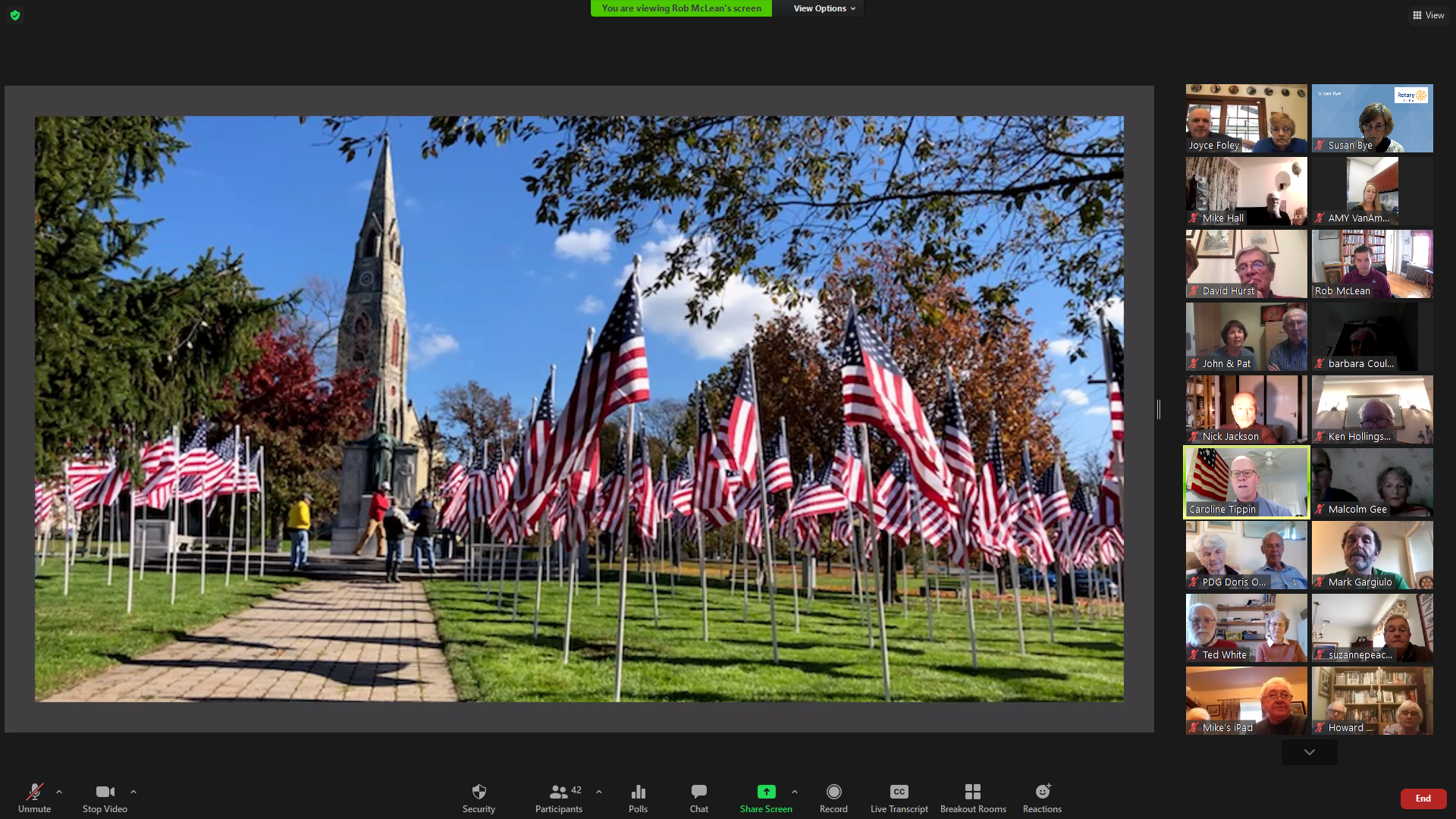 FEBRUARY 2021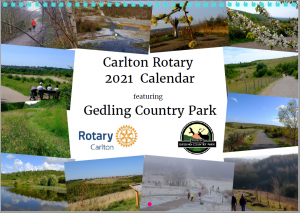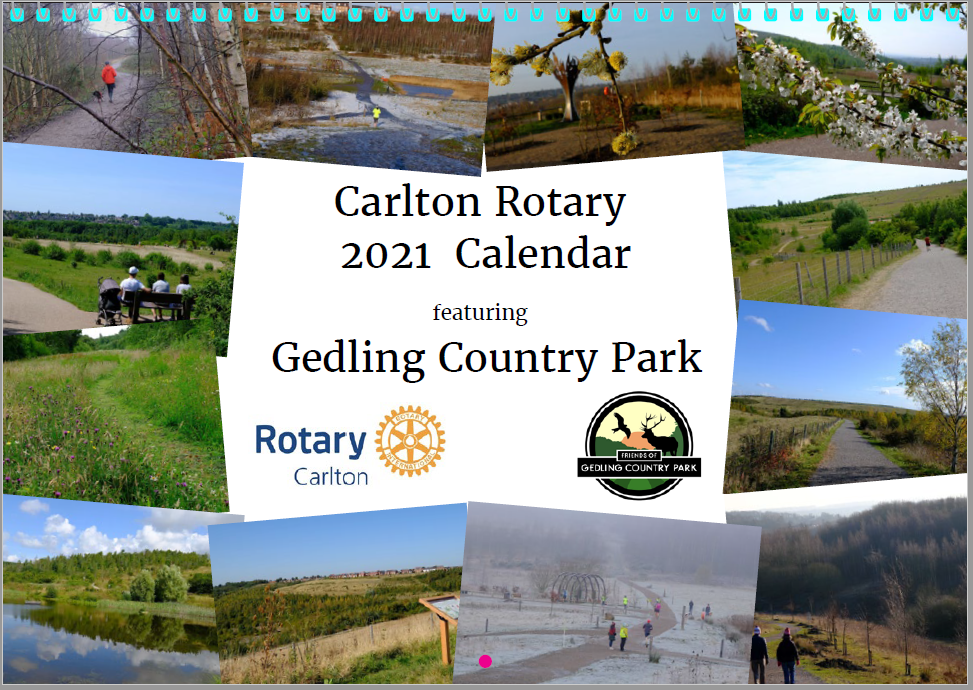 Our 2021 Calendars featuring Gedling Country Park raised £879.80 for Rotary funds, plus £250 for the Friends of Gedling Country Park.  Chairman of the Friends, Terry Lock, updated us at our Zoom meeting on 25th February and showed some beautiful photos taken recently in the Park.  This great local facility has become a favourite with our members and their families.
FEBRUARY 2021
All Hallows School in Gedling received a table for their playground, funded by Carlton Rotary.

NOVEMber 2020

Carlton Rotary members were pleased to support AQUABOX "Clean Water for Christmas" appeal.  We sent personal donations for 19 Aquafilters which will provide clean, safe water for drinking, cooking and washing to be despatched to disaster zones around the world.  The Aquabox charity is based in Wirksworth and this year has despatched aid to Nepal, to Yemen and to Beirut.  See: https://www.aquabox.org/ for details.
October 2020
Rotary Christmas Toy Box Initiative 2020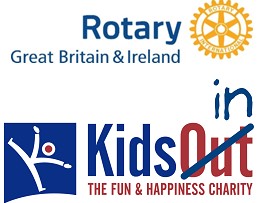 Our Club was pleased to support a new initiative from the KidsOut charity this autumn.  Their usual Rotary KidsOut Festive Fun Day in December was cancelled and instead the charity wished to ensure that children who have fled domestic violence and are living in a refuge have a brand new box of toys this December.  The Club donated 26 Toy Boxes, 8 met from club funds and 18 paid for by members.  See:  https://www.kidsout.org.uk/
October 2020
Carlton Foodbank received a second big order of donated food, courtesy of Carlton Rotary and the Rotary4Foodbanks scheme.  Their organisers said: "Many thanks for the food delivered to the food bank, which was much appreciated. We are now giving out over half a ton of food per week, so we need a considerable amount of donations for this purpose." 
HELPING OUR ENVIRONMENT
20
October 2020 – six members, socially distancing, picked up bags of litter along Colwick Loop Road
CARLTON ROTARY MACMILLAN COFFEE MORNING BY ZOOM – held on Friday 18th September 2020
A big "thank you" to all who took part in our Zoom fundraiser – #MacmillanCoffeeMorning We had lovely chats with friends who dropped in and shared recipes. £385 raised – fantastic!
JULY 2020 – We are still active despite meeting on Zoom nowadays!
We are using the money collected locally at Christmas to support your community Foodbanks.
"Rotary Club Carlton, have contributed towards feeding Netherfield, over 8,000 meals in 3 months. Thank you so much for your continuing support. You and others have made the difference to many lives. We are all so grateful
" Tina Simpson St Georges Centre Netherfield. St George's Centre
Carlton Foodbank is also being supported by us with donations and support from a Rotary Foundation Project- Rotary4foodbanks
We have been pleased to make weekly donations of money for the last 10 weeks to St Georges Centre / Bethesda Foodbank and St Paul's Church / Main Street Methodist Church Foodbank to help them purchase much needed items.
ROTARY + LOCAL BUSINESS IS DRIVING FORCE BEHIND MASSIVE NEW FOODBANK SUPPORT
A regional Rotary (District 1220) foodbank delivery scheme is up and running, delivering one hundred and fifty thousand food items to people in need in the next eight weeks across South Yorkshire and the East Midlands. Driven by Rotarians and the drive and generosity of East Midlands Chamber member – international haulage firm Taylors Transport.
Explains Rotary's co-ordinator John Cavey: "We could see a huge and growing need for foodbanks and we in Rotary are committed to helping meet that need. From our own charity funds, we have already allocated £35,000 to buy goods wholesale. Our plan is to extend that with another £60,000 by the end of July. By then we hope many more businesses will see the benefit in what we are doing for some of the country's most needy and become supporters of the scheme."
Without warehousing and an effective distribution network, Rotary4foodbanks would not be able to operate on the scale that is needed to meet that growing demand. That's where local businessman and long-time Rotarian, Alan Taylor, stepped in setting aside warehouse space and delivery vehicles. "Why wouldn't you help when you see people in need?" Alan says. "Even though we work internationally we have always been rooted in the East Midlands and it is only right to give back to the community in which you are based. It is a philosophy which runs right through to the heart of the business."
John Cavey said, "We are relying on the generosity of the public, Rotary Clubs, and businesses like Alan's, to see us through."
Anyone wanting to help in the programme – or foodbanks requiring Rotary4foodbanks – support can contact John Cavey at rotaryfoundation1220@gmail.com or Tel: 07855 299443
12th May 2020
Rotary Club of Carlton , Collins Cash and Carry and Nottingham Express Carriers worked together to get brand new high-need items to SHAREWEAR https://sharewearclothingscheme.org/ today. After prior arrangement, The Rotary Club bought £200 worth of new clothes for us from the wholesaler, who then said they would match the donation by gifting another £200 worth of clothes themselves. The courier provided free transportation of the knickers, boxers, socks, trousers, coats, T shirts, nighties and jogging bottoms.
Gedling Food Bank Appeal:
The Rotary Club of Carlton have taken their Santa Sleigh around the Gedling area for the past 42 years. Many of our Christmas donors will be struggling in these difficult times and we want to help.We are already supporting two local food banks on a weekly basis but wish to assist in the Council's efforts as well.
We have cancelled all future meetings until further notice in line with Government recommendation. Our committees will be meeting online to continue our support of the local community.
Are you interested in volunteering and helping your community?
The Rotary Club of Carlton is going to start a new Rotary Satellite Group.
We just need a few more of our followers to register an interest and then we can have our 1st meeting.
This is a new flexible type of Rotary Club best suited for people with busy family or work commitments. We plan to meet once or twice a month in the evening or on a Saturday morning in a Coffee Shop or Bar and have fun planning a range of fundraising and volunteer opportunities. If you would be interested in coming along to our first meeting then please message us to show your interest. Or you can contact Martyn on 07916055823
16th December
Today we took Santa to see the children at Carlton Digby School.
They had made some cards for Santa.
https://www.carltondigby.notts.sch.uk/
15th December
Yesterday Carlton Rotary went with Flying High Expressive Arts CIC to St George's Centre Netherfield to present a performance of The Wizard of Oz. The message from St George's Centre is below.
Thank you so so much, the stay and play Mums really loved it today they were so happy and never stopped saying how lovely it was throughout their tea. The Mayor Sanders and Pete were so amazed and pleased to see the young Mums of the community and their children enjoying the panto. Carlton Rotary, you don't know how grateful our community is and we thank you for all your support in 2019. Merry Christmas to you all Tina xx
Our thanks go to Carrie Bird and Flying High CIC for helping to make this possible.
https://stgeorgescentre.wixsite.com/stgeorgescent…/stgeorges
http://stjohnscanoeclub.co.uk/
Emmanuel House
Two of our members Tony Sherwood and John Branson at Emmanuel House handing over our Clothes Collection to Alistair Paylor – The Centre Manager http://www.emmanuelhouse.org.uk/
Thursday 23rd May 
Blood bikes presentation:
The sun shone for us as President Martyn presented a cheque for £4,300 to Blood Bikes. Pat Shawcroft brought a Blood Bike for our photos. During our meeting, John thanked us most sincerely and told us how the Nottinghamshire Blood Bikes are being used more and more by the NHS. They have completed 5000 jobs within the last 3 years. They estimate to have saved the NHS £79,500 to date. Their charity relies on donations such as ours which will be used for ongoing costs of petrol, insurance and maintenance.
https://www.facebook.com/NottinghamshireBloodBikes/
Carlton Town Lions Football Club Under 16 Team
Carlton Town Lions contacted us in September last year to see if we could help them with some money to assist them in going to Barcelona to play in a number of Football Tournaments in April this year. We came to an agreement by way of their parents and players helping us with our Christmas Santa Collection. Carlton Town Lions and Parents filled 47 of the much needed collection slots. We all had fun got cold and wet and raised money for the local community! We gave them the agreed sum of money to help them go to Barcelona. We received this email below from them yesterday.
Hi Rotary Club of Carlton
I just wanted to give you a quick update from our Barcelona tour.
We got back today from a fantastic trip and I am delighted to say that we went and won the whole thing!!
30 teams from Spain, Italy, England, Netherlands, Germany and more were in our age group.
We are all over the moon with the result and I have to say it is a truly wonderful achievement by all the players and parents.
Thank you so much for being such an important part in getting us there, we've made so many unforgettable memories and we are all so grateful for that.
Thanks and take care,
Michael
Rtn Mike Hall recently visited his family in Australia
Saturday 30th March
We had our Social / Fundraiser at Mapperley Golf Club with Gentry.
We raised £460 for Nottinghamshire Blood Bikes.
http://nottinghamshirebloodbikes.org/
https://www.facebook.com/gentryacoustic/
Thursday 7th March
We had a visit from Grace yesterday evening the Gymnast we are supporting. We wish you all the best for the 2019 Gymnastics British Championships
Thursday 24th January
Carlton Lions Football Club:  At the end of the evening we were joined by several players, their manager and parents so we could say a big "thank you" for their work on our Christmas Float.  We presented a cheque for £1,500 and wished them well in their tournament in Spain in April.
Thursday 20th December
We had our Christmas party at Ramsdale Park Golf Centre. Great food, and a fun raffle.Tash Bird sang for our entertainment. A great night.
 https://www.tashbird.com
Charity Fun Quiz Evening Saturday 9th February.
25 Rotary Shoe Boxes filled to help Children and Families in Eastern Europe.
 https://www.rotaryshoebox.org/
41 old Phones and Tablets collected for Oxfam.
 https://www.oxfam.org.uk/…/other-ways-to-do…/recycle-with-us
Thursday 8th November
18 of us went to The Royal Oak East Bridgford 
 http://theroyaloakeb.co.uk/ for a Skittles evening including some drinks and food. David Styles was our STAR BOWLER!
Wednesday 31st October
10 pin bowling – our team of David Styles, Malcolm Gee, John Branson, Colin Gell, Mike Hall played RC Kirkby this week.  A good game, but we were just beaten by Kirkby in Ashfield Rotary Club.
Member visits Australia
Our member Mike Hall recently visited The Rotary Club of Carlton Melbourne Australia and brought greetings and a banner from the Vice-President of the RC Carlton in Melbourne. Mike also presented RC Carlton Melbourne with a banner from RC Carlton Nottingham!
http://carltonrotary.org.au
Thursday 20th September:
We were very pleased to induct a new member to our Rotary Club, Tony Sherwood. Tony we welcome you to our club and look forward to working together. Pictured left to right John Branson proposer, Tony Sherwood and President Martyn
On Monday 27th August Bank Holiday we were at Lowdham Summer Show
The Kerala Crisis in India
We have sent 2 Aquaboxes and a Shelterbox to help the people effected by the Kerala Crisis in India.
http://.aquabox.org/
Aquabox Relief For Southern India Floods Gets Underway
Responding to the devastating floods in southern India, an initial consignment of 240 Family Filters and 10 Community Filters leaves on 23rd August bound for Bangalore to help meet the urgent need for clean drinking water.
The floods in Kerala state and surroundings are some of the worst in India's history. Airports, rail and road routes have been seriously affected making aid distribution extremely challenging.
Here at Aquabox we pride ourselves on finding secure, rapid logistics solutions and overcoming local difficulties in order to deliver much needed aid. Through our work with Rotary clubs in the affected areas of Kerala we are now in the position to airfreight out 240 family filters and 10 community filters to Bangalore. From Bangalore the Aquafilters will be transported by road to Mangalore and will then be distributed to the relief camps and other localilities in the devastated zones. We are grateful to our Rotary colleagues in Southern India for their valuable assistance with this.
Helpfully, the Indian Government Ministry of Finance has issued a notification, that subject to very tight conditions, humanitarian aid for the flood affected areas will not be subject to import tax. This will remain in place until December 2018 and is an assurance against abuse of the aid being donated.
Aquabox is continuing to work with local Keralan Rotary groups and examining the possibility of sending Aquabox Gold boxes, containing a wide variety of humanitarian aid items.
Our work in providing this emergency aid places enormous demand on our funds. We rely totally on donations to allow our work to continue. Please help us to help those in need.
Home
Saturday 18th August
Enjoying our walk before meeting other members at The Chequers Inn Woolsthorpe
Thursday 16th August
We were very pleased to be able to present Hilary Brown from WE R Here with a cheque for £250 to help them with their work in the community.
https://www.facebook.com/werhereuk/
 http://werhere.org.uk/
Thursday 2nd August
Carlton members have been collecting toothpaste, soap, antiseptic cream and have donated £100 to Aquabox. See www.aquabox.org
Mike Hall our International Chairman delivered our collection and presented the cheque to Roger Cassidy, Chairman of Aquabox Trustees. Friday 3rd August
Saturday 21st July
Some of our members on a social walk around Papplewick, Linby and Newstead before a meal at the Horse and Groom.
Wednesday 11th July
We all had a great day with Carlton le Willows Academy. Mock Interviews with some interesting students. Really good standards and an excellent group. They are all very committed and have a desire to be the best. We wish them all the best in the future.